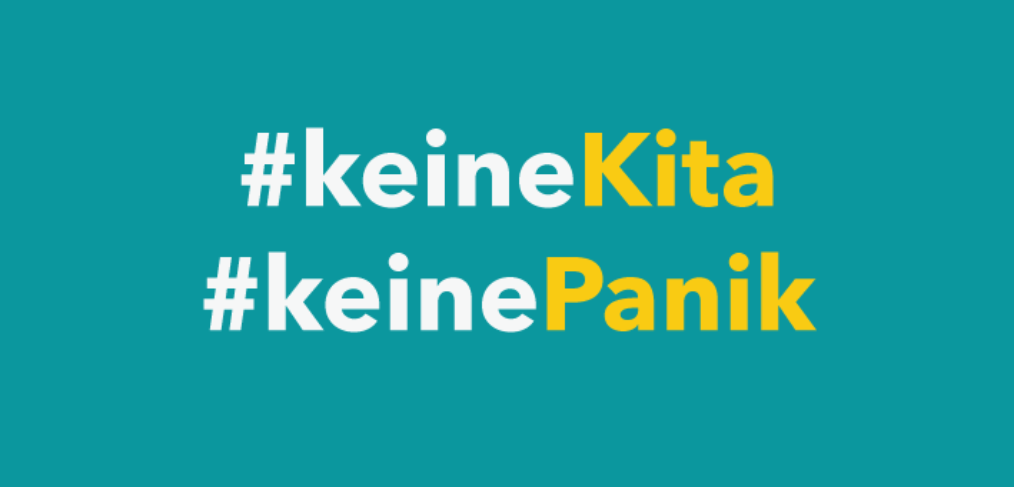 No Kita? No Panic! – Our new Childcare Service
One of our coworkers recently came in and announced "It's crazy out there!".
What was going on? A storm? Riots? Burning cars? Not quite, but close enough: the frantic search for a kita spot in Berlin. The city is short thousands of daycare spots and even the work groups and task-forces the Senate recently formed will not be able to make them magically appear. In the coming days and weeks many parents will learn that they did not get a kita spot – followed by these painful questions:
I have to return to my job – how will I explain this to my boss?
How will this affect the future of my career?
What will my clients and business partners say, when I have to put off their projects?
What will this do to our financial situation if I no longer receive "Elterngeld", but can't go back to work?
Granted, we can't solve all of these problems at once. But we can help reduce the initial stress and insecurity of the situation. Breathe and clear your head of all the panic and frustration that is setting in.
Based on the conversations we have had over the past few weeks with parents looking for a kita spot, we have adjusted our childcare services.
There are three big changes:
1. Parents can try Coworking with childcare for free.
All new customers or members who have had a baby can try two hours of coworking with childcare for free. Regardless of what you want to do during that time (enjoy a peaceful cup of coffee, continue your search for a permanent childcare solution, have a conversation with a client, employer or business partner) – we create the perfect setting for you. While our childcare staff lovingly cares for your little ones, you can enjoy some much needed 'me time' at one of the desks or in our café.
2. Pre-booking is no longer necessary.
In case of an unexpected childcare "emergency" you can now also come by spontaneously. Time of arrival must then be either between 9 am and 10 am or between 1 pm and 2 pm. Unfortunately we can not guarantee a spot for short-term arrivals, so it's always advisable to register in advance. If you want to be certain to get a spot (we take up to 6 kids), just call us or book online as usual.
3. Options for longer term use: time packages
Besides the short-term, occasional booking, it is now possible to buy discounted packages of 5 up to 20 days of coworking and childcare. This make it less expensive for you if you need to come several times per week or for a whole month of coworking with childcare. And: parents can share the packages and take turns coming to juggleHUB.
Be sure to save all your invoices for your taxes, since the cost for childcare is two-thirds tax deductible as a household service "Haushaltsnahe Dienstleistung".
Our corporate offer – talk to your employers!
In April 2017 we started a pilot project in cooperation with Coca-Cola: "Working flexibly with child". The company's employees can choose to work at juggleHUB and take advantage of our childcare service. The cost is covered 100% by the employer. This offer has let Coca-Cola benefit from quite a bit of good press and lots of happy employees, both aspects that are becoming ever more important for companies.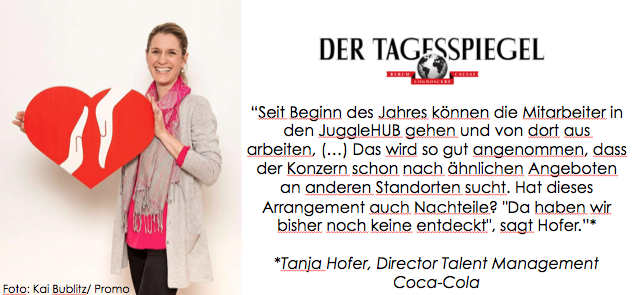 So don't hesitate to introduce this option to your employer. It always makes a better impression to enter a conversation with a solution rather than with a problem. We will gladly support you. You can find initial information about our collaboration with companies on our website.
We sincerely hope that we can reduce some of the stress of the Kita crisis with our offer. In the meantime, we are pursuing talks with government institutions and politicians in the hope that our childcare service will some day receive funding to take some of the burden off of you.
Everything will be ok in the end. If it's not ok, it's not the end.