Rent our rooms for seminars, workshops and courses. On over 100 square meters of event space you can learn, discuss, act, draw, resolve conflicts, build teams or try out completely new formats.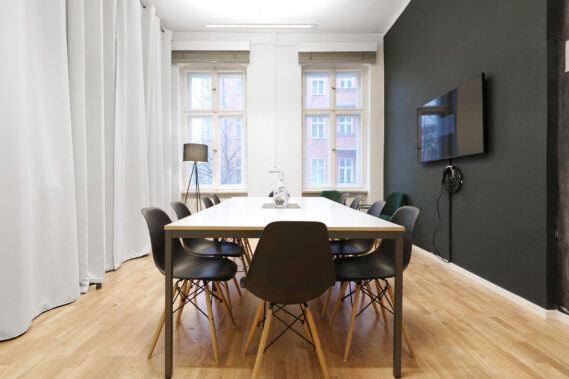 The meeting room - 22 sq.m.
can be used for team meetings or client meetings but also for group sessions or video conferences with up to 10 people seated on the large table. The room is furnished with a flatscreen and a chalkboard wall.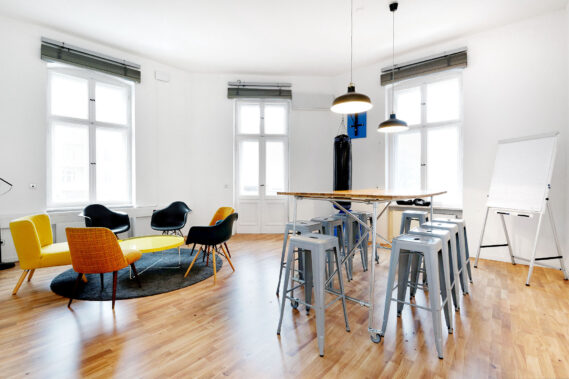 The workshop room - 32 sq.m.
can be used for coaching and workshops with up to 20 people. A large table with barstools holds up to 10 people, an informal seating area allows room for 5. Additional seating is possible. The room includes a whiteboard, an air-con unit and can be connected with the larger conference room by opening the large bi-parting doors..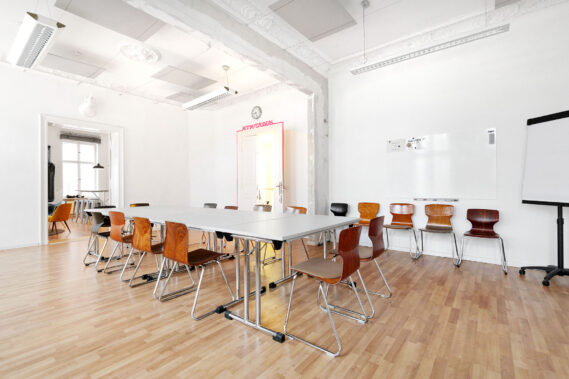 The conference room - 44 sq.m.
has a laminate floor and a big whiteboard. The room can be used with just seating, tables and chairs or as an open space, depending on your requirements.
It is suitable for events with frontal seating, for group seminars and workshops with up to 40 participants (up to 20 seated at tables).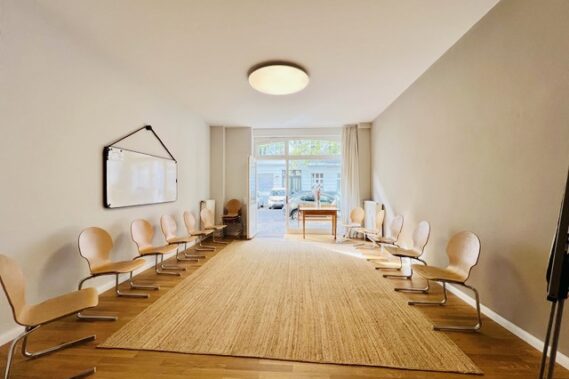 The Outpost - 70 sq.m. incl. kitchenette & toilet
is suitable for coaching sessions and workshops, team meetings and group work, as well as for presentations, meet-ups and much more. The large table seats up to fourteen people, while the circle of chairs can comfortably accommodate up to 16 people. Equipped with projector, screen, whiteboard, 2 flipcharts and facilitation material.
Room prices
Meeting room
(15 € for members)
Day rate (> 5 hrs.): 175 €
(105 € for members)
Workshop room
(21 € for members)
Day rate (> 5 hrs.): 245 €
(147 € for members)
Conference Room
(27 € for members)
Day rate (> 5 hrs.): 315 €
(189 € for members)
The Outpost
depending on setting and number of people