+++ Corona Update May 2021 +++

Dear juggleHUB Community,
As you know the current situation with the pandemic is worsening and restrictions are getting stricter again. Of course we want to continue to be here for you, to come together, work and support one another in this difficult time. In order to be able to do that we all have to do our part to ensure that we stay safe and can remain open.
So, what does that mean for us?
1. We have already blocked off some desks in the coworking area to reduce room capacity. To compensate for the lost desks we have created some work stations in the large conference room. So please work there as well. If at all possible try to pick one room and only work there. Don't work in a different room every day. This way we form some sort of fixed groups in the space.
2. Always check in on the iPad or with the QR code on your phone upon entering the space so we can inform you in case of a positive Corona case.
3. Please continue to follow our hygiene rules carefully – wash hands and disinfect your hands and your desk (when leaving). Please also disinfect your hands before handling anything in the kitchen (coffee machine etc.)
4. Wear your mask in all general areas and if possible also at your desk moving forward – our school kids have to do it – so we can at least try. If you feel this is not manageable, come talk to us and we will figure something out, perhaps a designated area.
4. To maintain a constant level of ventilation, we will open the upper windows in the mornings and keep them open throughout the day. This way you are not sitting in the direct draft, but please bring an extra sweater or jacket while the temperatures are still a bit low outside.
5.
Testing
…yes, unfortunately testing will be required. Please plan to take advantage of the free test offers and bring/send us the result once per week, preferably at the beginning of the week. There is a testing center
here
right across the street next to Lidl. You can make appointments there and it takes a couple minutes. If you can't get an appointment there, please check on the general
test-to-go
Website and find a testing center near you. We will keep a record of your tests.
6. Childcare is taking place with a maximum of 3 kids at a time. We will hopefully be able to resume to taking 6 kids at a time in the near future!
Thanks for your understanding and your continued support – we love you all!
LET'S GET THROUGH THIS TOGETHER!
Your juggleHUB Team
Opening hours
Mon-Fr 9 am – 6 pm
According to prior agreement you can use our rooms outside the regular opening hours.
News from the Blog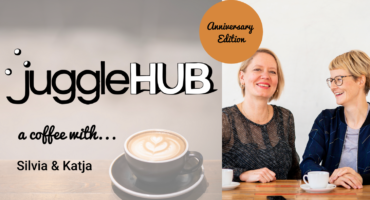 Der juggleHUB wird 5! Das schreit nach einem Rollentausch: Community-Mitglied Maja interviewt die Gründerinnen des juggleHUB, Silvia und Katja.
Read More

›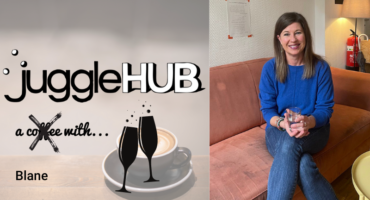 Being connected to others – that's what matters most for our community member Blane, in her work as a freelance […]
Read More

›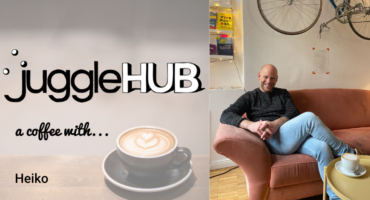 Heiko kam mit Beginn der Corona-Krise durch die juggleHUB-Tür und hat unsere Community seitdem spürbar mit seiner Offenheit und seinem […]
Read More

›
Coworking with childcare
Working flexibly
At juggleHUB each member can work according to their individual preferences: quietly on their laptop, in exchange with others, with or without child, as a founder in search of new impulses or an established entrepreneur with an approaching deadline while the "KiTa" is closed. In a network of people with multifaceted areas of expertise new and exciting collaborations and ideas are generated. JuggleHUB provides the much needed freedom that people need to be creative and focused and allows its' members to work in a way that fits their individual needs and lifestyles.
Valueing the woman in the mother
Often especially women feel reduced to their role as a mother after having a baby. At juggleHUB we recognize that a woman only gains from this experience and see her as the well-edcuated woman that she is, with all her interests, abilities and experiences. By catering both to her needs as well as her child's, we aim to merge her new role as a mother with her continueing wish to work and advance her career.
Supporting fathers
We want to encourage and enable men to take more than the typical two months of parental leave. With the option of working in our coworking space and bringing the baby along to be looked after close by, we are creating new opportunities for self-employed and employed fathers to stay in touch with their clients and employers while tending to their babies.
Valueing individual lifestyles
JuggleHUB aims to accommodate all the individual and personal arrangements of working mothers and fathers – whether they work as freelancers, are employed or looking to change careers; whether they children are still at home fulltime or already being cared for in a daycare situation.
Our flexible childcare service along with our varied coworking membership packages allow you to pick the perfect combination to fit your current needs. We want all our members to be able to divide their time between work and family life according to their own preferences.
Multiculturalism
Among our members are also women and men who came to Berlin from other countries and cultures to start a new life. Our goal is to make juggleHUB as international as possible. We know the value of a diverse and multicultural environment and aim to foster exchange and a sense of belonging.
Support and networking
We ourselves are both founders with children and are familiar with the many challenges that one faces on this path. We are happy to share our experiences and look forward to supporting our members with practical tips and contacts through our network.
 
Contact
Drop us a line