Working flexibly
At juggleHUB your employees have the opportunity to pursue their career in a self-determined manner that corresponds with their new role as a parent: flexible, on their own terms and without the added pressure of having to rush through traffic to make it to daycare pick-up on time.
This is made possible by a centrally located office space with all amenities you would expect to create a professional working environment, as well as flexible childcare that can be booked as needed.
Our flexible or fixed work stations can compete with the classic office desk on every level:
high-speed-Internet and telephone for communication with clients, colleagues and superiors
meeting room for team meetings or confidential conversations with clients on-site
postal address, mailbox and locker usage
flexible childcare as needed
Family friendly employer
Digitalization creates many new possibilities to work together and build a new understanding of a familiy friendly working world. Parents are "agents of the future": with their way of living and working they take responsibily for themselves and for others and are role models for their kids. A growing number of parents want to have more freedom when organizing their professional and family life and places, where there is room for both worlds.
As a company you can set a new benchmark when it comes to a family friendly working environment and employer attractiveness by encouraging your employees to work according to their needs and to share responsibily between both partners.
 Your advantage:
happy and loyal employees
high employer attractiveness for junior staff
new impulses through our creative environment and network at the juggleHUB Coworking Space.
your companies contigent for coworking with childcare can be flexibly used by several employees as needed.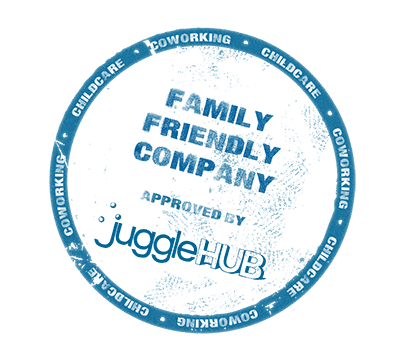 Companies that join us on the path towards a new working world will be honored with the juggleHUB "family friendly company" certificate.
You would like to make it possible for your employees to work occasionally in our coworking space with flexible childcare in Berlin?

Then please send us a message or call us at tel. 030 68 90 83 56. We will get back to you with details regarding our Business Coworking Packages and set up an appointment to meet with you.