Event hosts as well as participants can use our flexible childcare.
As events take place outside our regular opening times we ask you to let us know a week in advance if you need childcare for the time of an event. Just send us an e-mail to mail@jugglehub.de.
You can find all informationen about childcare here.
event calendar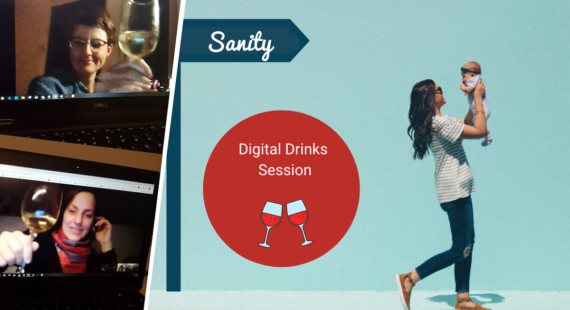 When? 14.05.2020 / 20:00-21:30 pm
Info: We stay connected! We've tried it and it feels good. So we will do it again: grab a drink, meet online, talk about our work-family-life-unbalance, laugh, cry, do whatever feels right. We'd also love to wrap our heads around ideas for upcoming virtual meetups that help you (and your business) in the next few weeks and months.
Host: ParentPreneurs Network Berlin
Read More

›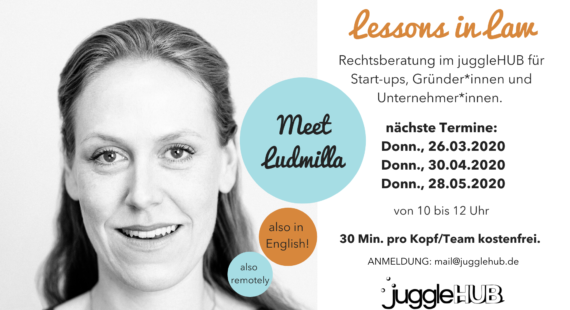 Wann? 28.05.2020 / 10:00-12:00 Uhr

Info: Ludmilla beantwortet euch eure Fragen im Rahmen einer kostenlosen Erstberatung zu den Themen Gründung, Investments, Vertragsgestaltung und vielem mehr. Pro Person stehen euch maximal 30 Minuten zur Verfügung.
Host: Ludmilla Kuhlen
Read More

›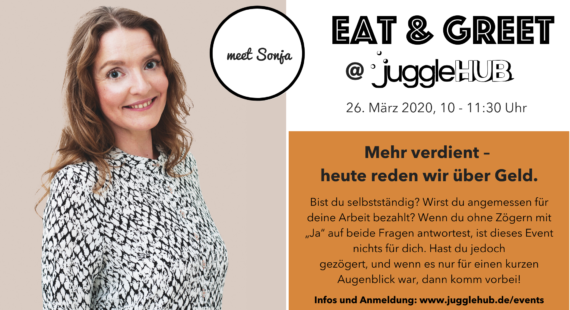 Wann? new date coming soon
Info: Experience-Talk: "Ich arbeite am liebsten zum Freundschaftspreis."
Bist du selbstständig? Wirst du angemessen für deine Arbeit bezahlt? Wenn du ohne Zögern mit "Ja" auf beide Fragen antwortest, ist dieses Event nichts für dich. Hast du jedoch gezögert, und wenn es nur für einen kurzen Augenblick war, dann komm vorbei!
Host: Sonja Vandrei
Read More

›
Wann? ab 03.03.2020
Infos: Vermeide die typischen Anfängerfehler und starte sofort mit hochwertigen und erfolgreichen Google Anzeigen. Alexander Sperber, AdWords-Trainer der Google Partner Academy, zeigt dir, wie du deine AdWords-Kampagnen erfolgreich und profitabel gestalten kannst.
Host: Alexander Sperber
Read More

›