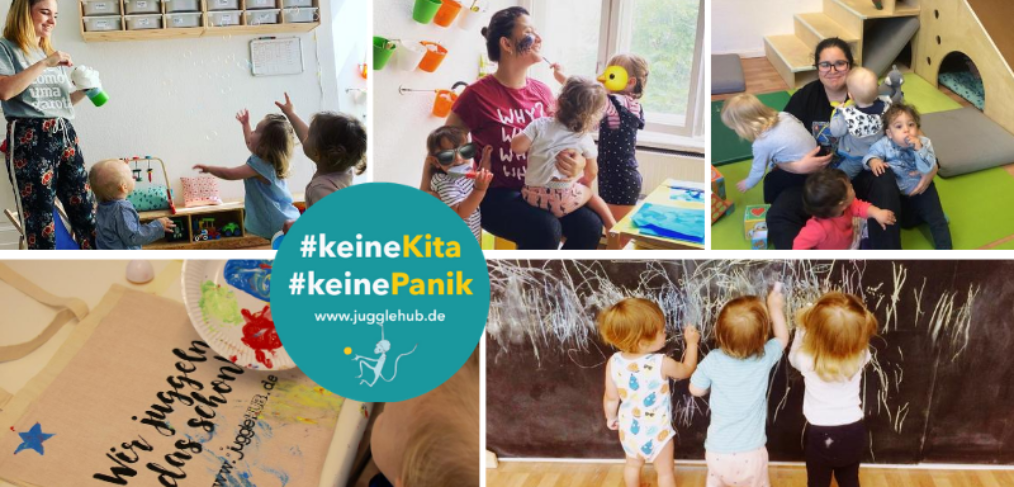 Flexible childcare in Covid-19 times – what's new?
A sense of ease has returned to the juggleHUB. One might say the old juggle-vibe is back. The only things that remind us of Corona are the tables in the coworking area that are moved further apart and the disinfectant spray in the common areas. So it might be somewhat difficult to grasp that unfortunately we have not defeated the virus, on the contrary, the numbers are going up again.

For us the past few weeks were defined by reorganizing, rethinking, also by doubts about which path would be the right one to take. The health of our team and our community is our number one priority. At the same time, and especially at challenging times like these, many people need places like the HUB where they can regain some sense of a "New Normal". That also means juggling work and family differently and more intense than before Corona.

A "New Normal" has also reached our childcare system. After having tried out different models since May, we have decided to stick with a more stable system. We want to move away from the very flexible short-term bookings and towards more stable fixed monthly groups which will also allow us to work with the kids in a more structured and content based way. At the same time we still want to give parents the flexibility to use our childcare for short-term emergency situations like unexpected Kita closures.

Childcare from August onward – what's new?
We will continue to have morning and afternoon childcare blocks. We have adjusted the times slightly so that both blocks have the same length:

Morning block: 9 am – 12:30 pm
Afternoon block: 1:30 pm – 5 pm

Between 12:30 am and 1:30 pm there is no childcare. During this time we clean and disinfect all surfaces and toys. If your child needs to sleep and you want to keep working during nap time, feel free to use our Nap Room with babyphone.

1. Monthly groups
Starting in August, we offer monthly spots in four groups:
Group 1: Mo, We, Fri 9:00 am until 12:30 pm
Group 2: Mo, We, Fri 1:30 pm until 5:00 pm
Group 3: Tue, Thur 9:00 am until 12:30 pm
Group 4: Tue, Thur 1:30 pm until 5:00 pm

In case of increased childcare needs, you can also reserve spots in several groups.

2. Weekly bookings
Parents who don't want to commit to a whole month, can join a group at the beginning of each week for the whole week (or 2 or 3 weeks until the next month) if there are spots available.

3. Single bookings
If you need childcare at short notice, you can book single time blocks (3,5 hours) for the morning or the afternoon group if there are still spots available.

Costs for the flexible options are higher than for the monthly option. Please check out our new prices on our website.

Booking and cancelling childcare – what's new?
For the time being you can only book via email to childcare(at)jugglehub.de. A reservation via our booking platform, Cobot, is currently not possible. We are working on simplifying and, if possible, automating the process. As soon as we've figured that out, we will, of course, let you know right away.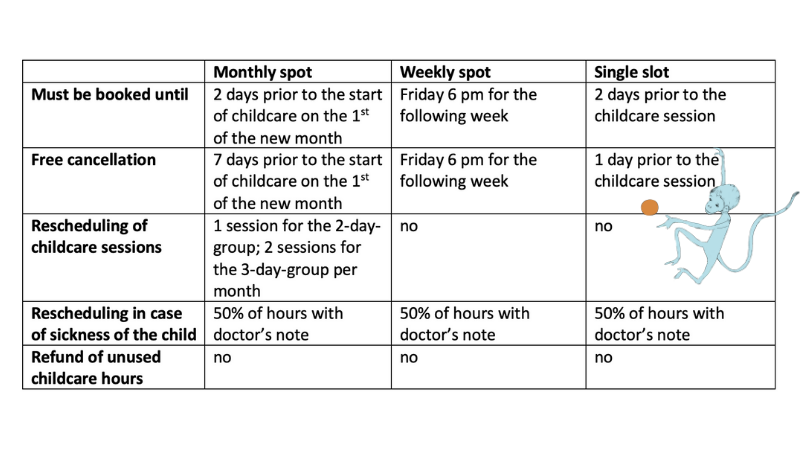 Please make sure to read our new Terms & Conditions before you make a booking.
Apply for a refund at the Jugendamt
If your child is older than 12 months and you didn't find a regular daycare spot, you might be eligible for a refund of childcare costs by the "Jugendamt". Our community member Lisa explains how it works on our blog.

Get support from your employer!
We also collaborate with companies. Employees of Babbel and Coca-Cola use our childcare regularly, empowered and financially supported by their companies. Come talk to us, if you want to find out more. We also recommend reading our interview with Nele, Head of PR at Babbel, who worked at juggleHUB when her Kita was closed.

If you have questions about the new childcare system, please get in touch. We are happy to help.
And: We look forward to the "New Normal" with you and your little ones! 🙂
#welcometothejuggle